Sometimes when you are cosplaying at a convention the unthinkable happens: someone hugs you too hard, you move beyond your garment's movement range, or you just plain used the wrong technique and glue or a seam doesn't hold. Whatever the cause, your costume needs an emergency repair. Now, I'm not talking a little seam in the back of your boot cover that will survive barely noticed until you get home. I mean something noticeable, without which your costume isn't complete, or in some cases even wearable, or else you have yet to attend craftsmanship judging and want everything to be as nice and finished as possible.
Oftentimes conventions will have their own Cosplay Emergency Repair station somewhere, usually near where Cosplay HQ and/or judging occurs, but I don't like to rely on that. You can't guarantee they will have the supplies you need, and even if they do by the time you get there they may be out. This is why I always like to bring my own cosplay repair kit of some type to any convention or major costuming event I attend.
First off you will need your basics: hand needle, thread (at least white & black, if not more), scissors, maybe some glue. These will cover most repairs you'll get caught needing. I like to take things a step further though and customize my kit for the specific costumes I'm bringing: thread matching at least my most prominent fabrics, extra buttons or beads, specific type of glue I used to adhere any major aspect (usually a hot glue gun), etc. Whatever I can do by hand should a repair be required.
For example's sake, here's what I currently have right now in my hand sewing/emergency repair kit: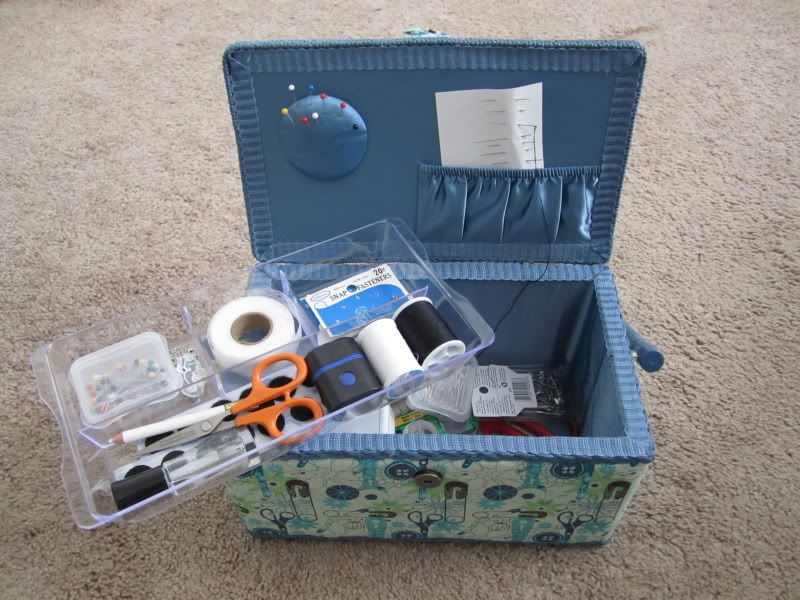 My Repair Kit
Clear nail polish (for runs in nylons or tights)

Stitch Witchery fusible bonding tape
I will also tailor my kit to what space I have. If I am taking a car to the convention I'll bring a whole big toolbox of supplies. If I am flying and need to conserve space in my luggage I'll take a much smaller container with fewer, more specialized items. Sometimes I combine my repair kit with my hair supplies (copious amounts of bobby- and hair-pins, elastics of varying size and color, comb, wig brush, wig cap, etc.) to save space. What you most likely may need is a judgment call you will have to make for yourself, and after all if you do need something you don't or can't bring you can always seek out the convention's Repair Station or help from a friend or kind stranger. For my stress level's sake though I like to save that as a last resort.
Basically put, I encourage you to do a reasonable amount of planning before your weekend away. Conventions are meant to be fun, don't ruin your weekend over something that could have been prevented or at least made easier with a little pre-planning.